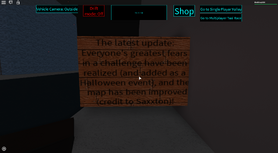 "Idk what to put here... 8( *The thought of knowing you don't know what to put here fills you with terror*"
Information
The 2016 Halloween Event started on the 5th of October in 2016. (the 6th in certain places) It changed all the water to Purple, removed day time, made the sky black with a neon golf ball in it, a new island, and the game was renamed "Taxi Simulator (Halloween Edition)". The update was removed on 1/11/16 & 2/11/16, however the desc and name stayed the same till the day after.
Getting the Ghostly Taxi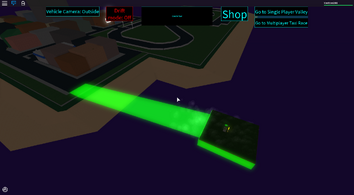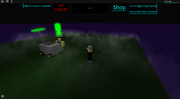 As you've probably noticed, there's a new ghostly island near the Police Station. Go up here and talk to Mr. Newb. He'll explain how to get it. If you can't be bothered to get it or the event is over, here's what he says: "Welcome to this weird floating island..." "I could pretend this is the newest location for Mr. Noob's Tacos..." "But I'm not going to, because we both know this is obviously a Halloween event..." "For some reason whoever made this game thought it would be a good idea to put me on this island..." "Anyways, you probably want to know what you're supposed to do..." "Well, I'm pretty sure when whoever made this game made the challenge they were thinking: How can I make this needlessly irrat"(ing) "All you have to do is come back here and talk to me..." "The catch is that I can only give away the hidden taxi once every hour..." "The only real scary thing about this challenge is the mob of people every hour..." "If you want it you'll have to come back in ?? minutes..." Then, after the time is up, the ! above his head turns green and whoever clicks him first gets it. Then he says "It looks like (USERNAME) gets the hidden taxi..." Then the timer restarts.
Community content is available under
CC-BY-SA
unless otherwise noted.