OH CRAP DOES THIS THING STEER?
Appearance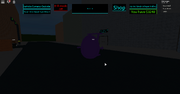 The egg taxi is basicly an egg that changes different colors upon spawn. When spawned it usually teleports you IN the egg making never escape unless you change the taxi. The spoilers stay on the taxi and so do the side pipes.
History
The Egg Taxi was here in April Fools 2018 and was no longer avalible after that day. The Egg Taxi also came along with the Tree Taxi which was here during April Fools 2017.
Trivia
This taxi does not fly even people expect it too
This taxi did not have a badge
The noob sits on top of the egg
This taxi was removed because it didn't have a license plate but if youu look in it actually does.
Community content is available under
CC-BY-SA
unless otherwise noted.