"Look familiar? It should."
Information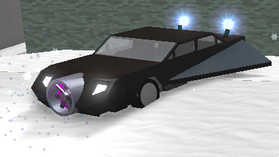 This place. It's the SIXTH wall driver course, and probably the last. Three people have beaten it legitimately. Like Champion's Boulevard and Victor's Avenue, it has a time limit. 1750 seconds, it is. Just like the other's except 100% hidden, you gotta take Guest 9015 to the end of the course. Like Victor's, it has 3 second lasers. It's Winner's drive + Master's road + Champion's Boulevard + Victor's Avenue + 3 jumps + 1 Champs gap. There is a total of 7 jumps and 2 Champs gaps. The audio is Uplifting Music - Judge Music ("Real" by Capo Productions)
After you win the challenge your MCWT will look like this.
Trivia
There are floaty particles floating around this place, used to try and distract you from beating the course.
Unlike other places, the wall driver on this place has a fresh look.
The course has invisible checkpoints which are only used to prevent people from glitching to the end
The reward is an MCWT upgrade
The ending is same as the ending of Champion's Boulevard
Community content is available under
CC-BY-SA
unless otherwise noted.